Band selective mobile phone signal repeater is a new type of intelligent signal booster independently developed by Amplitec R&D team, which can monitor equipment remotely on the cloud platform; the product supports 700MHz, 800MHz, 850MHz, 900MHz, 1700MHz, 1800MHz, 1900MHz, 2100MHz, 2600MHz frequency bands. The downlink receives the base station signal from the outdoor antenna through the BTS port, and transmits it to the coverage area from the MS port through the coverage antenna after filtering and amplifying. The outdoor antenna transmits back to the base station to achieve signal coverage in the original signal blind area. Band selective repeater has the advantages of high power, high gain, low cost and easy installation, etc. It can quickly solve and optimize coverage problems in weak signal areas and blind areas such as underground parking lots, tunnels, pipe corridors, and mining areas.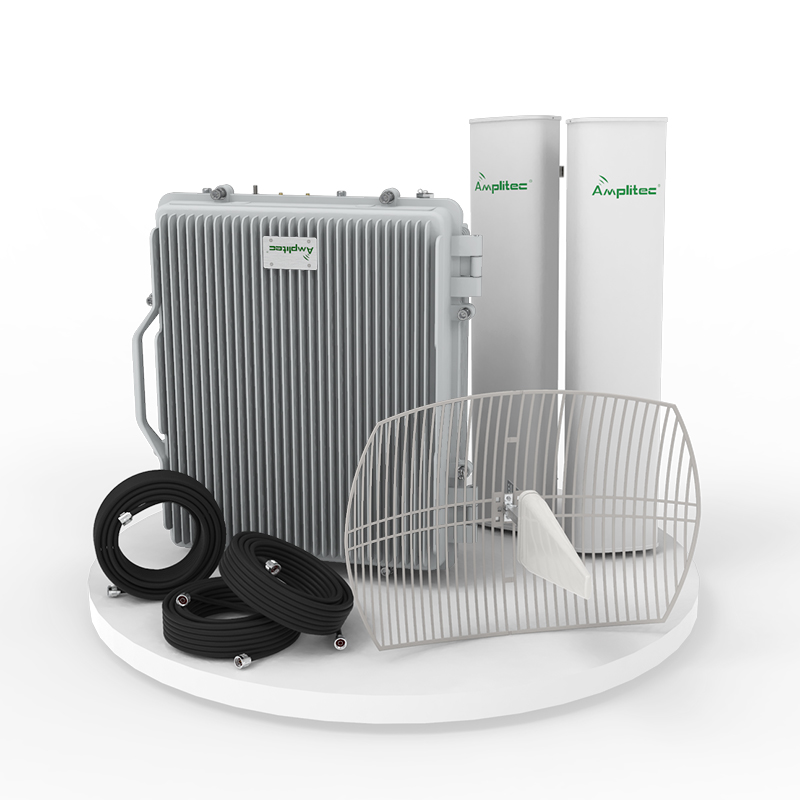 What are the features of booster?
1.OLCD display shows the working status of the device at a glance, and the key operation is more convenient and faster.
2.With remote cloud platform monitoring, the cloud platform monitoring equipment can be used to view and set the status of gain, power and alarm equipment.
3.High linearity SAW ensures high out-of-band rejection and minimal interference to the base station system.
4.The automatic output level control function can limit the output power to ensure stable coverage.
5.Manual gain attenuation function, attenuating the gain of the repeater within the range of 1-31dB in 1dB steps.
6.High-efficiency die-casting waterproof chassis, suitable for outdoor installation.
7.It is suitable for medium and large-scale site coverage, suitable for indoor coverage of the entire building or large area outdoor coverage, etc.
Explain the interface of the signal amplifier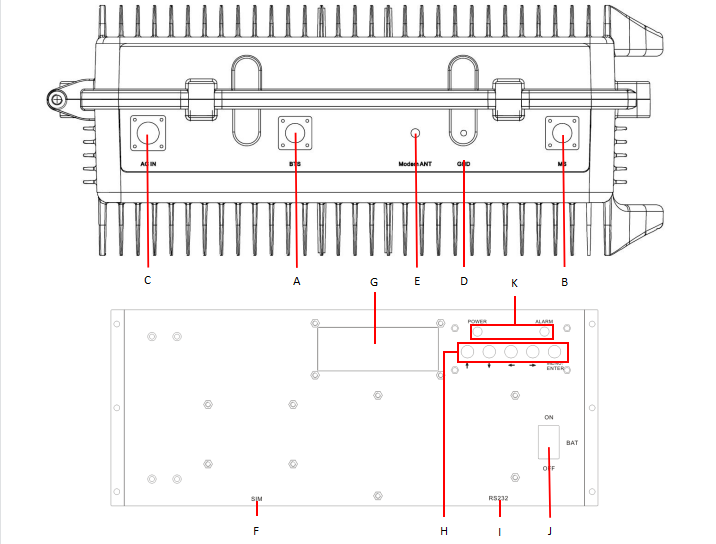 A: Donor antenna connection port (N-female).

B: Retransmission antenna connection port (N-female).
C: 220V AC power interface.
D: Ground screw.
E: Modem antenna interface.
F: SIN card socket.
G: LCD display.
H: Operation key.
I: RS232 interface for local monitoring.
J: Battery switch.
K: Power indicator light and alarm indicator light.
The status of the indicator light is as follows:
| | |
| --- | --- |
| Power | The indicator light of the power-on device is green |
| AGC | Downlink power start control 5~10dB indicator light is orange / start control 15~20dB indicator light is red |
| Smart | Smart mode light is on, manual mode light is off |
| ISO | The ISO smart mode light is normally green, the ISO warning light is red, and the manual mode light is off |
Operation and Display Instructions
a. The functions of the control panel are as follows:
Smart key: smart mode key
UP-Key: Turn up key, select the key from bottom to top.
DW+ key: scroll down key, select the key from top to bottom.
Enter key: OK to enter the key
Menu key: Return to the menu key
b. Display screen saver code
After the device is powered on and running, the display screen needs to enter a password to operate (password: 8888), press "UP-" or "DW+" to adjust the number to "8", then press "Smart" to adjust the next digit, press "UP-" or " DW+" to adjust the number to "8", enter "8888" and press the "Enter" key to enter the operation interface (password enable function: long press the Menu key + Smart key to enter the enable switch setting, ON enables the password function, OFF disables the password feature; default is off). (Figure 1)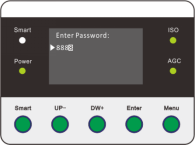 c. The main interface display shows
The main interface display shows the frequency band (the frequency band of the following operating instructions is for reference only, the specific frequency and gain are subject to the device), working status, temperature, ISO (as shown in Figure 2) and the modification settings can only be operated in manual mode.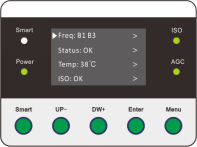 d. Check the working frequency
From the main menu interface, press Menu to the power of the system to be viewed, such as Band 1 (as shown in Figure 3), then press UP-key or DW+key to select and move the cursor to "B1: 2125~2140MHz" and then press Enter key to view the working frequency. Press the Menu key to return to the previous layer.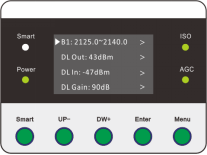 Technical Parameters
Just for example as Band8 and Band1 dual band

Items

Uplink

Downlink

Frequency Range

Band8

880 ~ 895 MHz

925 ~ 940 MHz

Band1

1935 ~ 1950 MHz

2125 ~ 2140 MHz

Bandwidth

Band8

15 MHz

15 MHz

Band1

22.5 MHz

22.5 MHz

Output Power

Band8

27±2 dBm

43±3 dBm

Band1

27±2 dBm

43±3 dBm

Gain

Band8

85±3 dBm

90±3 dBm

Band1

85±3 dBm

90±3 dBm

Ripple

Band8

≤6 dB

≤6 dB

Band1

≤2 dB@3.84MHz

≤2 dB@3.84MHz

VSWR

Band8

≤2

≤2

Band1

≤2

≤2

ALC Active 25dB

Band8

∣△∣≤2 dB

∣△∣≤2 dB

Band1

∣△∣≤2 dB

∣△∣≤2 dB

Max. Input Power Without Damage

0 dBm

0 dBm

Intermediation Products(CW)

Band8

≤-45 dBc

≤-45 dBc

Band1

≤-45 dBc

≤-45 dBc

Spurious Emission

9KHz~1GHz

≤-36 dBm

≤-36 dBm

1GHz~12.75GHz

≤-30 dBm

≤-30 dBm

Out of Band Rejection(Band8)

±400 KHz

≤-20 dBc

≤-20 dBc

±600 KHz

≤-35 dBc

≤-35 dBc

±1 MHz

≤-40 dBc

≤-40 dBc

±5 MHz

≤-45 dBc

≤-45 dBc

Out of Band

Rejection(Band1)

2.7≤f<3.5MHz

≤-20 dBc

≤-20 dBc

3.5≤f<7.5MHz

≤-45 dBc

≤-45 dBc

7.5≤f<12.5MHz

≤-45 dBc

≤-45 dBc

12.5 MHz≤f

≤-50 dBc

≤-50 dBc

ATT(Band8)step of 1 dB

1~10 dB

∣△∣≤1 dB

∣△∣≤1 dB

10~20 dB

∣△∣≤1.5 dB

∣△∣≤1.5 dB

20~31dB

∣△∣≤2 dB

∣△∣≤2 dB

ATT(Band1)step of 1 dB

1~10 dB

∣△∣≤1 dB

∣△∣≤1 dB

10~20 dB

∣△∣≤1.5 dB

∣△∣≤1.5 dB

20~31dB

∣△∣≤2 dB

∣△∣≤2 dB

Noise Figure@ max. gain

Band8

≤6 dB

≤6 dB

Band1

≤6 dB

≤6 dB

Time Delay

Band8

≤9 μs

≤9 μs
















Installation Instructions
Repeater Installation Requirements
1. Install in a space free from corrosive gas, smoke, and liquid leakage.
2. Installed on a lightning-proof, sun-proof, cool and ventilated wall.
3. The installation height should be easy for wiring, easy to dissipate heat, safe and easy to maintain.
4. There is a stable and independent power supply.
Where is the scene of mobile phone signal booster?
Can be installed indoors and outdoors
But it is generally not used for home use, because the Band selective repeater is a very professional equipment, and the user must have a very clear understanding of the industry and have very high requirements for use. Usually used by operators.