Product description:

As the application field of wireless communication is expanding, the radio waves in space are becoming more and more complex. In Helium IoT, the adjacent-channel radio wave signals in space form a great interference to Hotspot, resulting in a significant decrease in the reception sensitivity of Hotspot and a significant reduction in the reception range. Therefore, many Helium Network participants think of adding Lora Signal Booster to enhance the reception range, but Lora Signal Booster generally uses a SAW filter with poor out-of-band suppression capability for filtering, which does not suppress the interfering signal well, and the signal loss in the frequency band is more than 3dB, which Inevitably, the system noise is raised to more than 3.5dB, and the interference signal is enhanced together with the Lora signal, which also leads to a reduction in the reception sensitivity of Hotspot, so many Miners add the Lora Signal Booster and find that it does not add more witnesses.

The C20A-LR868/915 Pro is equipped with a Cavity Filter to suppress interfering signals outside the frequency band of 5MHz by more than 55dB, and the insertion loss in the frequency band is less than 1.2dB. the Lora signal received by the antenna is first input to Cavity Filter for filtering, and then input to the Lora amplifier Rx link and the Rx link no longer needs SAW filtering. The Lora signal is transmitted to Hotspot directly from the high-performance LNA with 17dB enhancement, thus reducing the noise
factor of the Lora amplifier to 0.7dB. Weak signals from Helium IoT devices 5~10km away become stronger and cleaner after filtered and amplified by C20A-LR868 Pro, effectively increasing Hotspot's reception range.


The Tx link of C20A-LR868/915 Pro is equipped with AGC function, and the TX gain can be automatically adjusted in the range of 0~17dB. The system can automatically compensate the Tx gain according to the cable length from Hotspot to CB17W-LR868 Pro.
Installation:
When installing the C20A-LR868/915 Pro, the cable connecting the receiving antenna should not exceed 30cm. The waterproof performance of the C20A-LR868/915 Pro housing is IP65, so you can safely install it outside near the antenna location to avoid excessive signal loss between the antenna and the C20A-LR868/915 Pro, which will cause the system signal-to-noise ratio to deteriorate. The C20A-LR868/915 Pro is also equipped with a BIAS TEE power supply module, which can power the C20A-LR868/915 Pro 's Booster through the RF cable.
The C20A-LR868/915 Pro system installation method as bellow :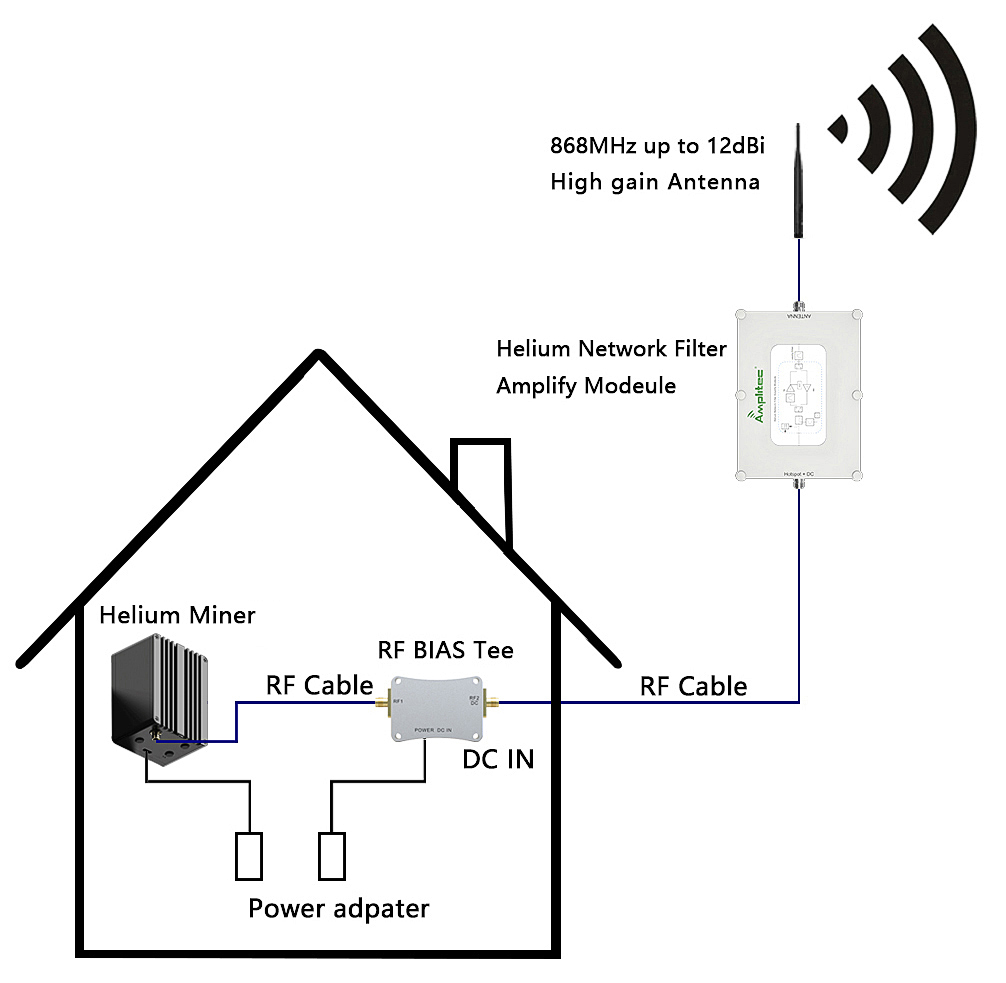 Product features:


* High out-of-band suppression
* Strong anti-interference.
* low insertion loss, low noise, obvious enhancement of the reception effect.
* The Receiving sensitivity -139dBm@SF12.
* IP65 waterproof grade, suitable for outdoor installation.


Wave Filtering Characteristics: